"To inform, excite, educate and inspire photographers and other creative professionals, worldwide."
TWiP Army — THANK YOU! You've made these last several years a joy. With TWiP we have a platform to talk to hundreds of thousands loyal fans, great advertisers, and a perfect "excuse" to approach and talk to some of the most famous and talented creative minds on the planet.
If you've been with us since the beginning you already know how much TWiP has grown, and how far we've come. TWiP has matured in terms of audience size, reach, influence and the continued evolution and refinement of the website.
With each move I've tried to push TWiP a little bit forward. Fine tuning this, polishing that… rinse and repeat. Most recently: The TWiP Network. Multiple shows, each with its own host — BOOM.
On being everything, and nothing.
You may be wondering, "Why a Network?" Why "dilute" a good thing by adding other shows?
The answer is simple — TWiP, in its previous iteration, was getting LOONG — in fact one of our longer shows was approaching 2.5 hours! That's just too long, and it's unreasonable to expect anyone to sit and listen (or watch) us drone on like that. And even with that obscene length, there was still no way we could do every topic justice.
Routinely I'd get email from TWiP soldiers "explaining" that we'd completely missed a certain aspect of a certain topic, in a certain segment of the show. It boiled down to the fact that you just can't please (or appease) everyone, so we stopped trying. And instead, I refocused our efforts and added more vertically oriented shows, to form a powerful network of awesome photography talk. Divide and conquer and all that jazz.
So, now we have a series of shorter shows (30-60 minutes each), with each show covering a specific genre of photography. We can now cover specific topics in more detail; and you can pick and choose your exact area of interest and still have time left over for lunch! This move also allows TWiP to grow as a business. Because advertiser interest in TWiP has grown substantially, if I were to allow in every advertiser that asks to reach our audience, the show would need to be renamed This Week in Ads!
Barring extenuating circumstances, there will be no more than three advertisers per show — any more and we're doing a disservice to our listeners as well as the advertiser. You and I both know how easy it is to just hit that 30 second skip button a few times. To avoid that situation, we avoid creating shows that are too advertising heavy.
So, what the heck is TWiP now? (And what isn't it?)
With all of this evolution and change you might be asking yourself — "what IS TWiP now, exactly?"
Simply put, TWiP is a network of photography related shows. There are other components to the TWiP Army (which I'll go into below), but the spinal cord and nervous system of the network are the photography shows.
Now with that said, TWiP is NOT intended to be your sole source of photography news. Heresy, I know. But we make no claims to be the CNN, Fox News or BBC of photography (who would?). We have a responsibility to accurate, but we're, by no means, aiming to be an exhaustive source of reviews on all things photography. For that kind of deep-dive, there are many great resources available, created by some very dedicated and talented folks. For example, on All About the Gear we often cite Gordon Laings CameraLabs blog as an excellent long-form deep-dive into some of the most popular cameras and lenses available today.
We simply do not (yet) have the resources to be on top of every piece of gear, technique, controversy, law change, etc. And to do it with style, every single week, while maintaining day jobs is not yet possible.
One day, TWiP may evolve into something more advanced, but for now you can consider us more akin to a round-table talk show. By design, all of the TWiP hosts are opinionated and their shows represent their own views and thoughts. I've issued no orders for them to be "fair and balanced" with regard to the topics they choose to cover. I personally hand-picked our hosts because of their expertise, talent and enthusiasm in their respective areas, and I wanted to bring that zest to you.
So, don't get insulted because your favorite host chose not to use the same camera you shoot with. Or if they gush about a piece of gear that they enjoy — and not the gear that you like. Again, this is an opinion network. The TWiP formula is simple, we take the top photography-related stories of the week, assemble a group of photographers, and dissect the story, add opinion and spread generously — that's really it, that's our secret formula.
Each of our shows has it's own particular flavor and flow, be it interview style, tutorial, or review but what they all have in common is that they're opinionated, in a good way — by design.
The TWiP Network
I must say, one of the more exciting developments of 2014 was launching our line-up of shows. We've now got 7 shows on the network! All with their own RSS feeds, and iTunes listings. And more are on the way!
As of this writing, our line up is as follows:
We've got several more shows in production, and by mid-year the network should be firing on all cylinders, hovering at around 10 shows! Each host, for the most part, will produce weekly shows; as well as some other cool stuff we've got lined up. Head over and subscribe now.
If you're a fan of a particular show, please support them by participating in the conversation by leaving a comment on the blog post that's produced for each show. You can also help us out immensely by leaving comments on iTunes. We read every single comment, post, and email. So interact with us.
These really are YOUR shows, because without you, we'd have nothing—seriously!
Commerce – We work hard for the money…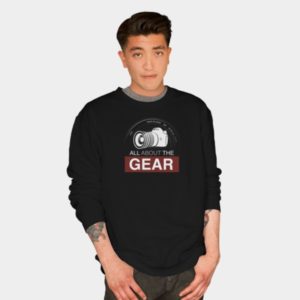 With all of the growth, we're also growing on the ecommerce front. We no have an awesome shop on the site with some great introductory products. And over the coming months you'll see more products added to the store. We've also partnered with the Design by Humans team to produce the TWiP Apparel line. Show your love for the network and send us a shot of you wearing your TWiP Army uniform!
Membership has it's privileges
We've also launched TWiP Memberships! Being a TWiP member will allow you to help us "keep the lights on". Just subscribe and for a small amount, either monthly, quarterly or annually we're able grow the network, give you all sorts of cool stuff, and provide discounts on TWiP products and events.
Paying TWiP members get huge and unreasonable discounts in the TWiP store. When you're a member (and you're logged in), the prices on many products in the store automagically change! For example, some products become FREE, while others become heavily discounted. And some areas of the site even "unlock" for members… for example, the TWiP Webinars area switches to allow the full-length playback of videos for members.
Non-members still get a free 10-minute webinar preview, and anyone can purchase our webinars from the TWiP Shop. Over the next several months we'll be adding more products and exclusive member benefits. Our (not so transparent goal) is to make it a no-brainer to subscribe to TWiP. We'll be providing incentives to join, and piling on the benefits for our existing members. All while not leaving out the folks who choose not to become members — the TWiP Shop is open to all. And our podcasts of course are 100% free.
Affiliate Products
From time to time, we'll also promote other products on the site and to our email list, social channels, etc. We will not promote products that I personally feel are not an excellent fit for you, the TWiP Army. When you see these third-party promotions know that if you purchase by clicking on our link, TWiP will get a small chunk of change. It really is a win-win-win; it doesn't cost you any additional money, and it benefits the person selling the product because we're able to introduce their product to our audiences — and it benefits TWiP because we get a little bit of revenue from the transaction.
TWiP Events
Over the next couple of years, we'll be ramping up our events business. Many of our fans have been asking for TWiP to do a workshop series, and I've been resistant to do so largely because there are just SO many great workshops out there already (and some horrible ones). When TWiP does branded workshops we'd like them to be relatively exclusive and high-end. This is no small undertaking, to do it correctly. Especially considering that many of these workshops will be international. So, stay tuned — I think you'll be pleased with what we come up with!
TWiP Meetups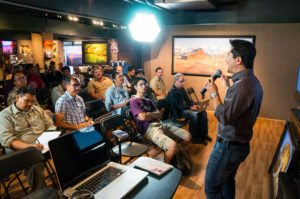 And speaking of TWiP Events – if you're a San Francisco Bay Area local, you might be surprised to know that we've got a vibrant and active TWiP Meetup group. I try to do meetings every other month. We've had famous photographers come in and lecture, we've done photowalks around the Bay Area, and we've even done live model shoots! If you're local to the Bay, or just find your self in Silicon Valley from time to time, be sure to join the group. I'd love to see your smiling face at the next meeting.
Webinars
A few weeks ago we launched TWiP Webinars. These are fantastic! We're now able to tap into the minds of subject matter experts and "deep-dive" into a particular topic. Our webinars are 100% free for everyone to watch live. And TWiP Members get access to the full streaming replay on-demand. Non-members can still get the videos by purchasing them for a small fee in the TWiP Shop.
We've got an amazing line up of webinar trainings lined up! Some of the upcoming webinar titles are:
4K PHOTO – Using 4K video for still photography
The Travel Junkie – The Photographers Guide to the Universe
The Ninja Photographer – Doing more with waaay less!
Video for Still Photographers
Social Media Marketing for Photographers – How to Win Followers and Influence Friends
Advanced Ninja Tricks for Photoshop and Lightroom
Starting your Wedding Photography Business
Street Photography for Shy People
And be sure to check out some of the webinars that we've already produced…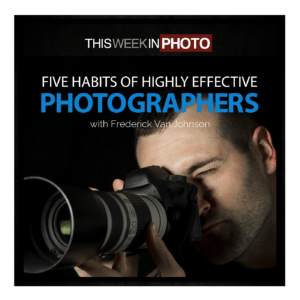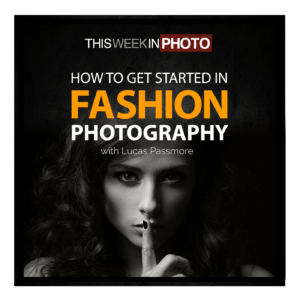 Make sure you're signed up to the TWIP email list to be notified of the live presentations, and also for the announcements of when the on-demand recordings become available.
"Focusing Ahead", (see what I did there?)
So, that's a lot right?! TWiP has grown, and continues to grow. My job is to keep making that happen in as many ways as possible. TWiP will continue to inform, excite, educate and inspire photographers and creative professionals in as many was as we can.
It's going to be a great ride, come join us!
Now, take that lens cap OFF!
Frederick
Frederick Van Johnson
Host, This Week in Photo