Your Itinerary 18: In Bruges
Podcast: Download (Duration: 27:21 — 25.0MB)
Local Expert: Andy McSweeney in Bruges, Belgium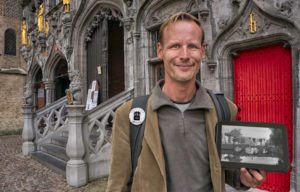 Our Local Expert this week hails originally from Montreal, but Andy McSweeney has made his home in Bruges, Belgium since 2002. He has been running Photo Tour Brugge for the last three years, and his company is now at the top of the Trip Advisor attraction ratings.
Andy leads three groups of photographers through the streets of Bruges every day. This makes him more than qualified to offer the prospective traveler advice about where to go, what to do and when to shoot in Bruges.
After talking with Andy about his medieval home I am dying to get over there. His enthusiasm is contagious, and he is a great ambassador for Bruges. I will definitely look Andy up when I get there and buy him a beer or two!
Andy provided me with a comprehensive list of links to share with you. I imagine that most questions are covered between the interview and the list, but if you need more info you can check out the Photo Tour Brugge website and drop Andy a line there. He has also been generous enough to offer a 10% tour discount to Your Itinerary listeners!
Don't forget to check out Andy's photography at www.AndyMcPhoto.com
If you would like to be interviewed for a future "Local Expert" episode of Your Itinerary please drop me a line at rob@thisweekinphoto.com or on Twitter @YourItinerary.
Bruges, Belgium Links
Photo Tour Brugge:
www.PhotoTourBrugge.com
3 photo tours daily, availalbe as open tours & private tours
-10% open tour discount code: TWIPyouritinerary
City & Transport Links
City of Brugge : bezoekers.brugge.be/en
Train: www.belgianrail.be/en/ (the app is infinitely better)
Taxi Snel : www.taxisnel.be/
Photo Shops
Tuyttens : www.tuyttens.be (family owned and top end gear)
Fnac : www.nl.fnac.be (general electronics & spare parts)
FOOD & DRINK.
Brewery De Halve Maan : www.halvemaan.be
Café Vlissinghe : www.cafevlissinghe.be/
Cambrinus : www.cambrinus.eu
Pro Deo : www.bistroprodeo.be
Park Restaurant : parkresto.com (does full vegetarian menu on request)
De Karmeliet : www.dekarmeliet.be
Café Rose Red : www.cordoeanier.be/en/rosered.php
Non Photo Activites & Tours:
Museam : bezoekers.brugge.be/musea-brugge-4
Brewery De Halve Maan : www.halvemaan.be
Beer Museum : www.brugesbeermuseum.com
Chocolate Museum : www.choco-story.be/ENG
Historium : www.historium.be/en/home
Quasimundo Bike Tours: www.quasimundo.com
Segway Tours : www.segwaybrugge.be/en
Nathan's Battlefield Tours : www.visitbruges.org
Boat Tours : www.nvstael.com
Horse Carriage Tours : www.hippo.be/koets
LODGING:
Youth Hostel Lybeer : www.hostellybeer.com
Youth Hostel Charlie Rockets : www.charlierockets.com
The Pand: www.pandhotel.com/
Hotel Adornes : www.adornes.be
Hotel Martins Relais : www.martinshotels.com/en/hotel/martins-relais-oud-huis-amsterdam
Hotel De Tuilerieen : www.hoteltuilerieen.com
Hotel Karel DeStout : www.hotelkareldestoute.be/nl-be/
SURROUNDING AREA :
Damme : www.damme-online.com/gb.htm
Ypres (Ieper) : www.toerismeieper.be/
Ghent : www.visitgent.be/en/home