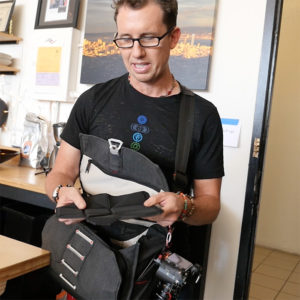 A few weeks ago I had the opportunity to meet up with my friend Trey Ratcliff at the Peak Design headquarters in San Francisco, California. The day prior, Trey contacted me with a cryptic message saying something like "you have to come see what I've been working on with Peak…".
So, intrigued — I went.
The big reveal turned out to be a cool new camera bag that the guys at Peak Design, in collaboration with Trey had cooked up. They'd incorporated many of the learnings culled from creating their highly popular strap and camera attachment systems. And they also took a long hard look at the failings of many current camera bag systems. Like strap positioning, dividers, water resistance, laptop/tablet support, memory card management and more. And after many iterations and revisions (that you'll see in the video) they came up with The Everyday Messenger.
We all realize that finding the "perfect" camera bag is like chasing unicorns, considering the number of variables unique to each individual photographer. But I think this one is extremely well thought out and addresses a number of obvious pain-points common to many photographers.
At the time I published this post, their Kickstarter campaign, which was looking for a "mere" $100k had already been funded to over $700k — in just a DAY or so. In fact, they reached their $100k goal in just ONE HOUR after opening the campaign. That's gotta be some sort of record.
To celebrate and promote this bag, Trey is also doing a photowalk tour around the USA, stopping in various cities to show off the bag and meet (and shoot with) StuckinCustoms fans. You can learn all about the tour over on StuckinCustoms.com.
Get in on the Kickstarter and get one of these bags for yourself – just head over to their Kickstarter page and check out the details!