The 2012 This Week in Photo "Picks of the Year"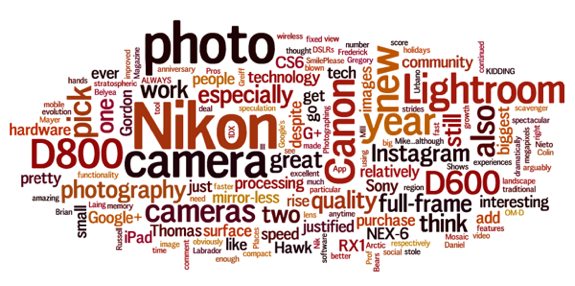 It's been one heck of a year for photographers. Business has picked up, manufactures have been busy innovating and social media sites have been growing faster than ever.
At the end of every TWiP episode, Frederick asks the week's guests what their "Pick of the Week" is. Like many other listeners, I've discovered countless gadgets, photographers, blogs and books that have been extremely helpful in my growth as a photographer. To that end, we've asked the TWiP community to help us create a list of the best and most popular photography-related gear, hardware, software, news, tips, tricks, trends or people of the 2012. We got a ton of responses, including comments from the famous Thomas Hawk.
Mirrorless technology was extremely popular, as were the Nikon D600, the Canon 5D Mark III and Lightroom 4. But we want to hear more. Tell us about the apps, the people and the blogs that influenced you this year. Leave us a comment here or on the new Google+ community page.
Gear and Software
I'd say the continue explosion and evolution of online photo sharing. The community on Google+, the plus one collection books, scavenger hunts, G+ one year anniversary photowalks, and so much more for community on G+. Google's purchase of Nik.

Flickr's new justified photo layout, increase in photo size, liquid photo tech, speculation about renewed interest in flickr with Mayer as new CEO.

Some of the appropriation work that people are doing with Google Maps images, especially Doug Rickard's work here.

Gordon would be better to comment on Camera tech, but the Canon 5D MIII was pretty epic for me personally.

Lightroom 4 was a major step up in speed and functionality for photo processing.

The new MacBook Pros also dramatically improved photo processing speed and especially the shift towards faster flash memory.
-Thomas Hawk, Google+
I think that despite the continued (and justified) growth of mirror-less, the biggest surprise was that arguably two of the biggest launches this year were the Canon 5D3 and Nikon D800. While both delivered excellent quality and features, they are still traditional DSLRs and relatively old fashioned in the technology stakes. Shows people still like the DSLR format and are willing to spend lots of money on them.

Secondly I thought it was interesting to see four full-frame cameras announced in quick succession, the two above along with the Sony RX1 and A99. The RX1 in particular was interesting as it was the first full-frame fixed lens compact.
-Gordon Laing, Google+
Photoshop CS6, for those of us who can't get it right in camera! JUST KIDDING!!! LOL But CS6 is a kick *ss program. I'll also have to go with the Canon Mark III and mirrorless technology so we can ALWAYS have a quality camera with us where ever we go!
-Ron, TWiP
Nikon D800 for amazing resolution & Lightroom 4 for making my work flow more efficient.
-Brian Collins, TWiP
The Nikon D5100 (my new camera) and its intervalometer and time lapse video functions.
-Gregory Urbano, TWiP
I would add the Fuji X-E1, but that's just me. 🙂
-Scott Greiff, Google+
I don't know if any one product stole the 2012 show, but I have to say mirror-less cameras certainly got my attention this year.
My pick of the year for 2012 for gear is the Nikon D800, for social networking as it pertains to photography my pick is the rise of Google+, and for software my pick is Lightroom 4.
-Gerry Daniel, TWiP
Canon 1DX … hands down winner
-Chris Belyea, TWiP
I would have to say the Nikon D600, at last an affordable full frame device from Nikon with great image quality
-Hugh Walker, Google+
I would add the Mosaic View – Lightroom iPad App to the list. I love being able to view my Lightroom images from my iPad anytime.
-Gerard Murphy, TWiP
I think some of the mirroless cameras made great strides this year like the Sony NEX-6 and the Olympus OM-D — these cameras are small, fast (9 fps), relatively inexpensive, good autofocus, and reasonably priced. I'm going to be picking up a NEX-6 after the holidays for my day-to-day travel camera.
-Nick Nieto, TWiP
I'd have have to say the D800 – I'm still blown away by this camera, despite the big files I have to deal with. If I was allowed a number two choice it would be 500px – especially if you score based on hours spent using it!
-Ade Russell, Google+
Canon 5DIII. Most camera I'll need (until the MkIV perhaps)!
-SmilePlease, TWiP
My vote is for my new Nikon D600 with the WU-1b wireless connection! The best ever!
-Ric The Prof, TWiP
Absolutely the Nikon D600. It's a killer piece of hardware. Also, the Square card reader. It has become practically ubiquitous and is a great tool for working photographers and small businesses of all kinds.
-Brad Cook, TWiP
Trends
Facebook's purchase of Instagram, obviously huge and also the rise of Instagram and mobile photography in general.
-Thomas Hawk, Google+
I think I agree with you Mike…although an Instagram photo on the cover of Time Magazine is up there.
-Jimmy Daly, TWiP
Places
My pick isn't hardware – it's a region. The Arctic consistently produces stunning wildlife and landscape photography, from Polar Bears to icebergs to arctic tundra, I just can't get enough. Both Alaska and Labrador have been mindblowing experiences in 2012.
-Charlie MacPherson, TWiP
D600 and D800 for full-frame price and stratospheric megapixels respectively. Photographing the surface of Mars FROM the surface of mars is also pretty spectacular.
-Colin Stewart, TWiP
Thank you to the TWiP community for making it a great year. Here's to an even better 2013!