Street Focus 16: Out of Chicago
Podcast: Download (Duration: 36:02 — 33.0MB)
Street Focus 16: Out Of Chicago with Chris Smith and Marie Laigneau
I am pleased to share with you a conversation with my good friends Chris Smith and Marie Laigneau about photographing Chicago and the 2015 Out of Chicago conference.
The Out of Chicago Photography Conference 2015: Hittin' the Streets!
Join Valerie Jardin, Thomas Leuthard, Marie Laigneau, and 25 other photographers from Chicago and around the world for a weekend of classes, workshops, and photowalks in the city. Broaden your street photography horizons with travel photographer Elia Locardi and world-renowned photographer and author Bryan Peterson. Read about all of the presenters and their classes at www.outofchicago.com/conference. It's going to be an amazing weekend!
SPECIAL DISCOUNT for Street Focus listeners: Enter 'streetfocus' for an additional $50 off.
Link to Valerie's article mentioned in the show 7 Tips for a More Anonymous Approach to Street Photography
About Marie Laigneau:
Marie is a French street photographer who lived in Chicago for several years and is now located in London, UK. To see more of Marie's work and check out her ebook, visit her website.
Marie and Valérie will co-lead a weekend street photography workshop May 29-31, 2015.
A few images of Chicago by Marie Laigneau:
Below is the picture shot through the elevated train platform in Chicago that Valerie mentioned in the show: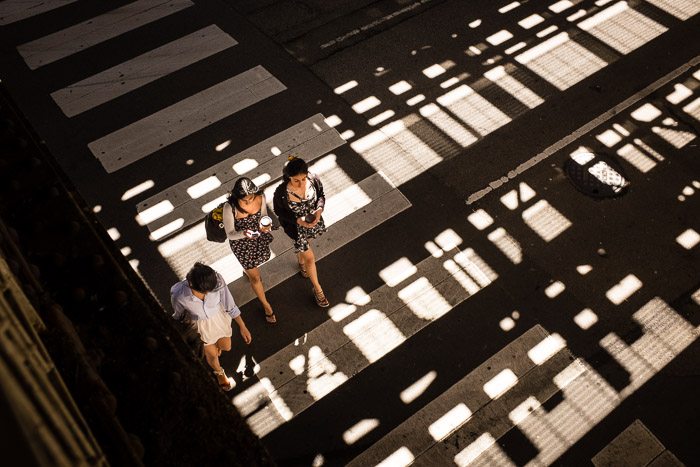 To keep up with everything Valerie is doing, you can visit her website and find links to her social media platforms. Thank you for listening to Street Focus!