Street Focus 01: Capturing the Essence of the Ordinary – with Thomas Leuthard
Podcast: Download (Duration: 21:05 — 29.0MB)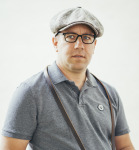 Welcome to episode 001 of Street Focus! I'm excited to have joined the TWiP family and to be producing this much anticipated show! Listen to the show I recorded with 
Frederick Van Johnson
(episode 000) to find out what this show will be about, and the cool stuff we've got planned.
If you are a street photographer, you've undoubtedly heard of Swiss street photographer Thomas Leuthard. If not, you're missing out and I urge to check out his work, ebooks and tutorials after you enjoy this conversation.
Thomas is a passionate photographer based in the heart of Switzerland who travels to the big cities of this world to witness and document on the street. He works with a discreet Micro Four Third camera to capture the interesting essence of the ordinary life happening in public. To him the camera is a black box capturing the moment his eye is seeing. There are more important questions in photography than asking about what gear you are using.
Connect online: Website – Flickr – Facebook – Google+ – Online Course
Email: Thomas.Leuthard (at) gmail.com
---