Your Itinerary 07: Extreme RV's with Mike Cohen
Podcast: Download (Duration: 30:28 — 27.9MB)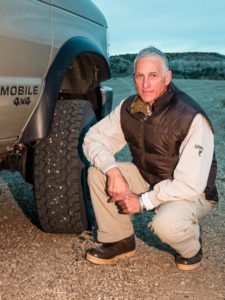 Your Itinerary this week is my interview with photographer and RV'er Mike Cohen. When I started this podcast I decided I wanted to have photography enthusiasts on the show in addition to professional photographers. Mike doesn't make pictures for a living, but I think you'll find his photography and his travels very interesting.
I met Mike beside a pond in Bosque del Apache New Mexico. He's the kind of guy who never met a stranger, and I'm glad I got the chance to get to know him a little bit. At the time, Mike was nearing the end of several weeks of traveling in a 4×4 camper van known as a Sportmobile. After hanging out with Mike for a few days I knew I had to have him on the show.
Mike planned his trip around two big photography events and visited many photographers' "bucket list" locations along the way. You can see by the image gallery below that Mike makes some beautiful photos, and he took full advantage of the opportunities he made for himself. Hopefully this week's episode will inspire you to hit the road!
You can find out more about Mike at http://mmykey.com, flickr.com/photos/mykeyc, and mykey.smugmug.com