WEBINAR: Making Stills Move – Final Cut Pro X for Photographers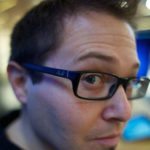 This webinar is the first in a series of webinars designed to get you up to speed with adding video to your creative toolkit. Lee discusses some of the fundamental concepts you need to understand when embarking on your new video-based journey. Upcoming webinars will cover topics such as creating cinematic slideshows, creating short movies, and more.
Lee Herbet was born in the Middle East, grew up in Africa. He has lived in Europe and New Zealand, and now calls Melbourne Australia home.
Lee spent 10 years working for Apple as a trainer. He now creates high-end corporate films through his own production company. And in his copious spare time, he runs popular workshops around the world teaching people about photography and video production.
Get in touch with Lee:
Website, Twitter, Google+, YouTube, Vimeo and Instagram.
URLs Lee mentioned in the webinar:
FCP.co
Ripple Training
Capturing Passion
FX Factory
R0DE
Tascam DR40
Zoom H4n
Genustech ND Filters
Tiffen ND Filters
ShotPro
Become a TWiP Member and get access to ALL TWiP Webinars!
[easy-pricing-table id="4474″]