TWiP Talks 36: Rick Sammon on Multitasking
[smart_track_player url="http://media.blubrry.com/thisweekinphoto/p/content.blubrry.com/thisweekinphoto/TWiP_Talks_36_Multitasking_with_Rick_Sammon.mp3″ color="6a1915″ title="Rick Sammon on Multitasking" artist="TWiP Talks 36″ ]It seems like
Rick Sammon
has mastered time travel, the guy is everywhere and gets more done than anyone I know. In this episode of TWiP Talks, we find out how.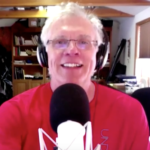 Rick is a tireless, prolific and inspirational image-maker, Rick, called by some "The Godfather of Photography," is one of the most active photographers on the planet – dividing his time between creating images, leading photo workshops, and making personal appearances. Rick's enthusiasm for digital imaging is contagious.
Rick enjoys sharing his photographs and providing practical how-to advice to a wide audience of photo enthusiasts through his blog, books, how-to videos, iPhone and iPad apps, a podcast and an expanding following on social media. With more than 700,000 Google+ followers, he has been recognized as one of the top photographers to follow on Google+. In his spare "desk time," Rick writes for Photoshop User magazine.
In recognition of his talent and influence, Rick has been named a Canon Explorer of Light.
Rick is also a Westcott Top Pro Elite, recognized for his skill in portraiture and lighting. He was also named by Squarespace as one of the world's best photographers. Rick is also a Coloratti – a select group of photographers recognized, by x-rite, as color experts.
Both Rick and Frederick will be speaking at the Out of Chicago conference in in June. Come hang out!
Follow Rick on Google+
Follow Rick on Twitter. Daily tweets about new stuff.
Check out some of his favorite pictures on PhotoExtract.com.
Check out Rick Facebook Fan Page.
Listen to the Digital Photo Experience Podcast.