The Secrets to Creating Amazing Photographs
with Marc Silber
Podcast: Download (Duration: 18:23 — 33.9MB)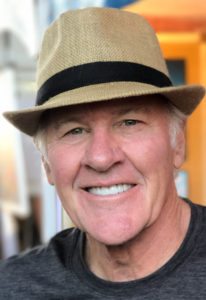 In this interview I speak with Marc Silber about his new book The Secrets to Creating Amazing Photographs and the dichotomy between old school photography and new.

Marc is a best selling author, photographer, filmmaker, and producer of the very popular Youtube series Advancing Your Photography, where he has interviewed scores of some of the biggest names in photography. 
He started out learning darkroom skills and the basics of photography at the legendary Peninsula School in Menlo Park, CA, in the '60s, and moved on to hone his skills to professional standards at the famed San Francisco Art Institute. Marc moved into teaching photography in workshops all over the country, he became renowned as an engaging and helpful speaker and coach, as his greatest joy comes from helping others. 
He loves adventure and you'll find him out backpacking surfing or snowboarding, or maybe just chilling, taking a walk through Carmel with his wife and Golden Retriever. 
Get the book!:  The Secrets to Creating Amazing Photos: 83 Composition Tools from the Masters
AYP Resource page: http://www.silberstudios.tv/dev/ayp-book-resources/
Marc's YT:  https://www.youtube.com/marcsilber
Marc's IG:  https://www.instagram.com/marcsilber
Facebook: https://www.facebook.com/marcsilbershow
---
HELP SUPPORT TWIP!
+ PATREON – https://www.patreon.com/thisweekinphoto
Please help support TWiP by donating to the network on Patreon. Running a podcast network is not cheap, free or easy! It requires a ton of effort and commitment. Even the smallest donations help us keep things afloat.
+ TWIP PRO – http://www.twippro.com
If you enjoyed this video, please join our community at http://www.twippro.com – you can support TWiP while continuing the photography conversation. Join the mixer with like-minded photographers, while helping keep us on the air!
—————
MORE ABOUT TWiP…
+ THIS WEEK IN PHOTO – https://thisweekinphoto.com
TWiP is one of the longest running and most respected photography podcast brand and networks in the world. Subscribe to our podcast, or our YouTube channel to stay entertained, inspired and educated about all things photography.
+ TWiP PRO SCHOOL – http://www.twipschool.com
Continue your learning experience at the TWiP PRO School! We've got loads of "instant access" digital courses available for you to dive into NOW. Many courses are taught by some of your favorite TWiP personalities!
+ TWiP MEETUPS – https://thisweekinphoto.com/meetups
Meet and interact with some of the TWiP hosts, get to know your fellow TWiP PRO community members, and learn how to take your photography to the next level. Everyone is welcome — all skill-levels, camera types, and photographic interests.
TWiP ON SOCIAL MEDIA:
• Twitter – http://www.twitter.com/thisweekinphoto
• Facebook Group – http://www.facebook.com/thisweekinphotography
• YouTube – http://www.youtube.com/thisweekinphoto
• Instagram – http://www.instagram.com/thisweekinphoto