Take to the Road! Shoot Like a Pro
Shoot steampunk at Preston Castle
On this week's TWiP GLAM! we take to the road for a steampunk themed photo shoot at the famous Preston Castle.  The castle is a unique photographic experience with every surface of the building exuding character. Follow along with us through four distinct setups shooting both film and digital. On this photo shoot, we face a number of interesting challenges from a reliance on battery power to interior temperatures exceeding 110°F!
Feedback is king!
This episode is a whole new format for TWiP GLAM! and we would love to hear from you. Let us know if you like this format and how often you would like to see it in the mix. At the bottom of this page, you will find a feedback form that will send your comments directly to the hosts. We appreciate every word you have to offer.
History of Preston Castle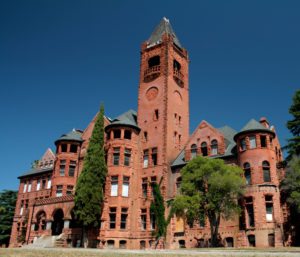 The Preston School of Industry(AKA the Preston Castle) was constructed from 1890 to 1894 and represented a new direction in caring for juvenile wards of the state. The school concentrated on the building of skills and preparing the wards for life outside of incarceration. The facility continued in this capacity until 1960, when new, modern facilities became available. Empty and unused, this beautiful example of romanesque architecture fell into extraordinary disrepair.
Restoration
In November 2014, ownership of the castle was passed to the Preston Castle Foundation. Since that time the castle has undergone structural preservation and been made available for public tours and the photographically adventurous. Money raised by the foundation is reinvested into saving the structure for future generations.
Photo Credit for Preston Castel image, Flickr user "GoFloridaGators" under CC 2.0
Have an idea for an episode?
Do you know a photographer you think might make a good guest on our show? Maybe it's yourself?! Just use the form below to contact us. You, (or your suggestion) might just make it onto TWiP GLAM!
[gravityform id="3″ title="false" description="false"]