Street Focus 60: Weddings and Street with Kevin Mullins
[smart_track_player url="http://media.blubrry.com/thisweekinphoto/p/content.blubrry.com/thisweekinphoto/Street_Focus_060_Kevin_Mullins.mp3″ color="6a1915″ title="Weddings and Street with Kevin Mullins" artist="Street Focus 60″ ]
Street Focus 60: Weddings and Street with Kevin Mullins
This week I sit down with documentary-style wedding photographer Kevin Mullins to talk about his work and the similarities in the way he approaches a wedding shoot and street photography.
Who is Kevin Mullins?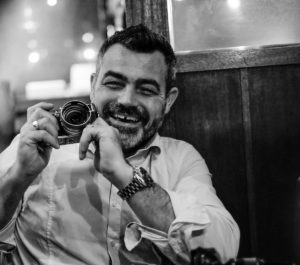 I'm a wedding photographer with a passion for people watching.  I want my wedding photographs to be snapshots of real, uncontrived but tender moments in time.  Weddings are where I ply my trade, but really it's just "people being people" – they happen to be at weddings.  I shoot with the small, Fujifilm mirrorless cameras and always with natural light only.  This allows me to shoot the wedding from the inside out, and I want my clients to be taken right back to that moment in time when the image was exposed and see it from their guests eye view.  I was the first Fujifilm X-Photographer in the wedding area and shoot exclusively as a documentary / candid photographer.  Street Photography is my training ground.
Links:
Wedding Website:  www.kevinmullinsphotography.co.uk
Personal, Street & Fuji Work:  http://f16.click
Twitter:  @kevin_mullins
Instagram:  kevinmullinsphotography
Wedding and Street Photography by Kevin Mullins: