Street Focus 28: 100 Strangers with Mark Reierson
Podcast: Download (Duration: 39:11 — 26.9MB)
Street Focus 28: 100 Strangers with Mark Reierson
This episode for Street Focus is powered by Freshbooks.
This episode is dedicated to Ben, featured above, who recently passed away.
Please enjoy my conversation with Canadian photographer Mark Reierson who just completed a 100 Stranger Portrait project. We discuss the highlights and challenges of taking on such a project as well as the ways it can change your life.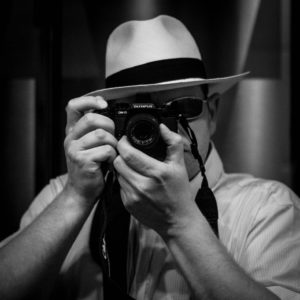 Born and raised in Calgary, Canada, Mark has gained some notoriety with his photography project, 100 Strangers.  His insights into the private worlds of the strangers bustling about in Calgary are engaging and well presented.  How many of us have looked around us and wondered what goes on in the lives of the others around us?  Mark dives in, fighting his own introverted tendencies, and finds out.  He presents his growing collection, well beyond the initial 100 strangers here at www.CanadianPortraitist.com.
Mark's project fulfills the creative side of his personality.  He also enjoys crafting through the medium of woodworking, learning this fine art through a master craftsman-his very own grandfather.  Whether building furniture or relationships with strangers, Mark's first priority is his most important creation-his family.   Alongside the love of his life, Lois, Mark is the proud parent of two energetic boys, Ethan and Owen, and a beautiful little girl Olivia, who has him wrapped around her little finger.

Photography entered into Mark's life in 1998 and he began concentrating on perfecting this craft in 2011.  He continues to explore his creative side with street photography and portraiture, and has been involved in many projects, including Humans of Calgary and the educational venture, The Arcanum.  Mark has been featured in podcasts, including Photography: "Live and Uncut", Shutter Time with Sid and Mac, and now Street Focus.
Relationships are vital in understanding the world around us and our place in it.  Mark Reierson's work is an invitation into the world he sees and presents a challenge to explore our own environments and get to know those with whom we share it.  Mark's future endeavors are sure to be filled with just as much hope and intrigue as his current work brings to us.

To keep up with what is happening in Valerie's world, find all links through her website at www.valeriejardinphotography.com.