Street Focus 19: Honor and Dignity with Jamel Shabazz
Podcast: Download (Duration: 31:54 — 29.2MB)
Street Focus 19: Honor and Dignity with Jamel Shabazz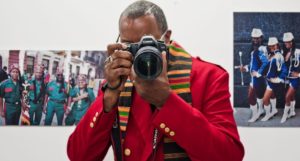 I am pleased to share with you a conversation with photographer Jamel Shabazz. Born in Brooklyn, New York, Jamel's work spans decades. He has gained international recognition through his numerous exhibits and books. Jamel was one of the photographers featured in the much acclaimed documentary film Everybody's Street.  Today Jamel shares with us a documentary project he is currently working on. For the past few years he has been developing on a project entitled Honor and Dignity. This particular project focuses on men and women of the African American community who are often invisible in mainstream society. The photographs are of military personnel, civil servants, fathers, families, and various fraternal organizations all representing dignity. The images are both black and white and color, mainly posed and captured in various cities both near and far.
Find out more about Jamel Shabazz by visiting his website.
Link to his conversation with Ibarionex Perello for The Candid Frame.
A few images from the Honor and Dignity Project by Jamel Shabazz: