President Obama's Year in Photographs
Pete Souza is a photographer who is truly living the dream. As the Chief Official White House photographer and Director of the White House Photography Office, he spends most of his time with President Barack Obama, traveling the world and documenting the daily life of the leader of the free world.
How does one become the official photographer of the President? Well, maybe "become" isn't the right word. Souza earned that title. He has been a working photojournalist for more than 30 years and was also the official White House photographer during Ronald Reagan.
Souza also hopes to photograph events in a way that will set White House photos apart from those of press photographers. He'd like for the images coming out of his office to convey a sense of scene and historical significance. "I think there's only one picture I've ever seen of the Gettysburg Address and, you know, Lincoln, you can barely see him, but it gives you an idea of what that scene was like."

Sometimes, the significance of a particular photo becomes apparent only after the moment has passed. Souza once shot a photo of Obama and his family just before the then-senator from Illinois was to publicly announce his decision to run for president.

In the photograph, Obama looks off into the distance, his face calm and inscrutable; his wife and daughters look on, their expressions hinting at anxiety. Says Souza, "I look at that photograph now and I say to myself, 'He's about to walk out that door, and his life will never be the same.' "
Read A Front-Row View Of Obama's White House on NPR.
Souza has published many of his photos on Flickr under a Creative Commons license and more recently under as U.S. Government Works license, meaning they can be distributed without attribution. He recently published a set chronicling 2012 with the President. A few of our favorite photos are below and you can view all of them here along with captions and all of the EXIF data. Learn more about Pete Souza on his website or by following him on Twitter.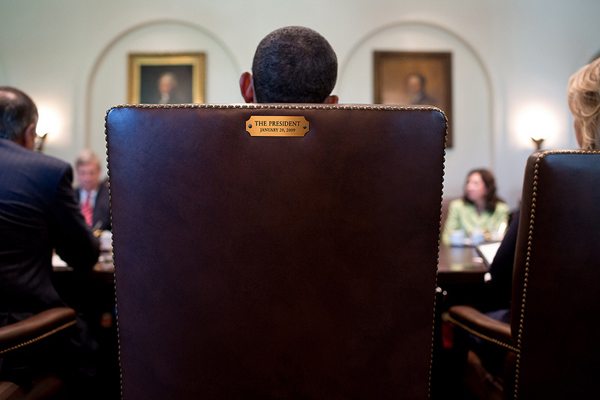 "A view from behind the President's chair during a Cabinet meeting in the Cabinet Room."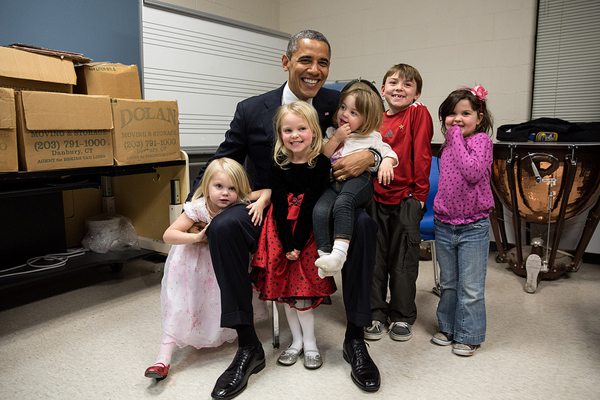 "Two days after the shootings at Newtown, the President traveled to Connecticut to meet with the victims' families and give remarks at a prayer vigil. The President spent hours greeting family members. Difficult as that was for everyone, the one moment that helped sooth the pain was when he posed for a photo with the siblings and cousins of Emilie Parker, one of the 20 children who died that day in Newtown. I see both sadness and hope in this photograph, and I know after a lot of tears that day, it meant so much to the President that everyone was able to smile for a moment in this family photo. Thanks to the Parker family for allowing us to show this photograph publicly."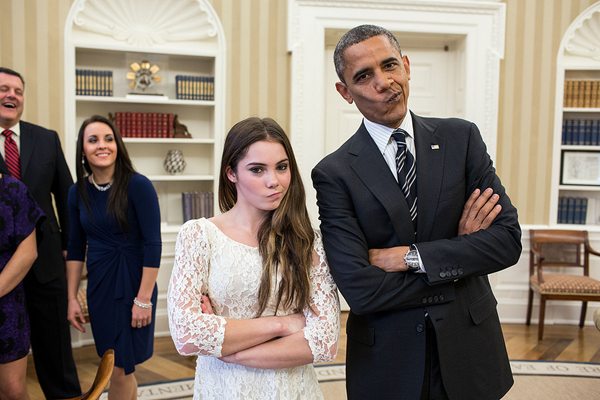 "The President had just met with the U.S. Olympics gymnastics team, who because of a previous commitment had missed the ceremony earlier in the year with the entire U.S. Olympic team. The President suggested to McKayla Maroney that they recreate her 'not impressed' photograph before they departed."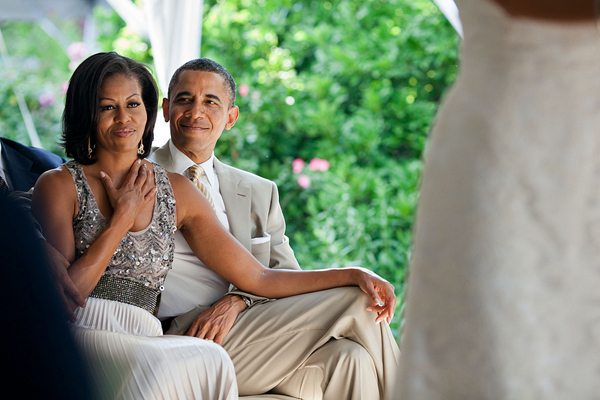 "The First Lady reacts as she watches Laura Jarrett and Tony Balkissoon take their vows during their wedding at Valerie Jarrett's home in Chicago."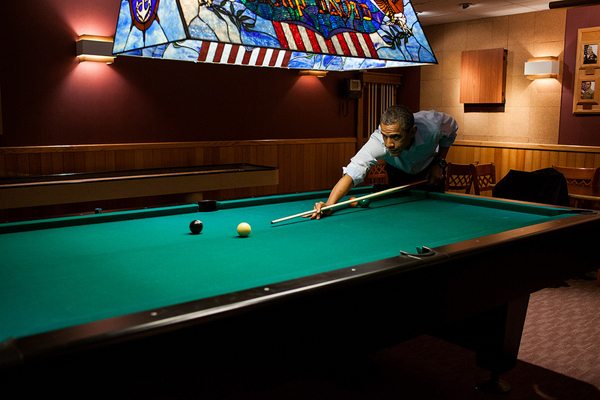 "Following the conclusion of the G8 Summit, the President plays a game of pool in the Holly Cabin at Camp David."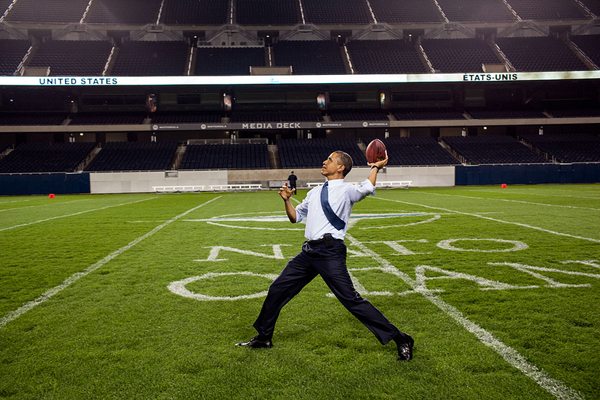 "'How cool is this,' the President said after he threw a football at Soldier Field following the NATO working dinner in Chicago. I think he was especially excited to be on the home turf of his beloved Chicago Bears."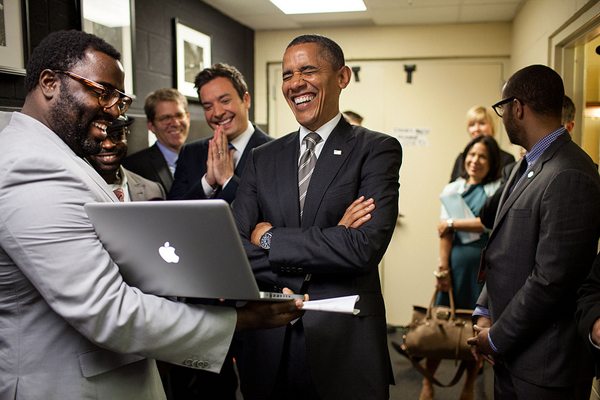 "We were backstage at the University of North Carolina in Chapel Hill for the President's appearance on 'Late Night with Jimmy Fallon.' The President let out a big laugh as he was being briefed by the producers and Mr. Fallon on the 'Slow Jam the News' segment."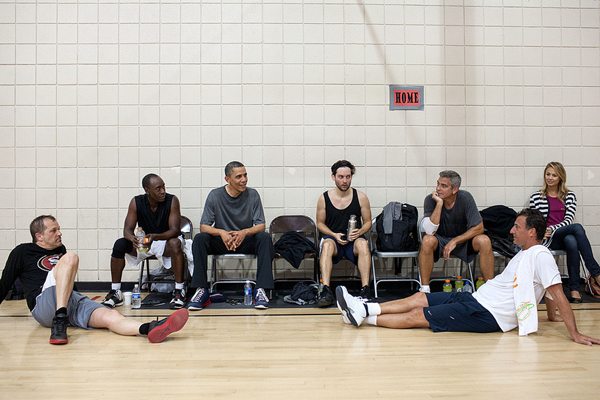 "After some early morning basketball in Los Angeles, the President talks with the players who included actors Don Cheadle, Tobey Maguire, and George Clooney, along with two of Clooney's long-time friends. Stacy Keibler is also at right."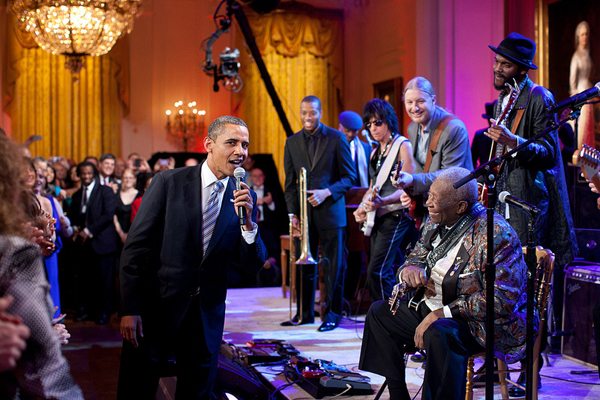 "Egged on by B.B. King, at right, the President joins in singing 'Sweet Home Chicago' during the 'In Performance at the White House: Red, White and Blues' concert in the East Room. Participants include, from left: Troy 'Trombone Shorty' Andrews, Jeff Beck, Derek Trucks, B.B. King, and Gary Clark, Jr."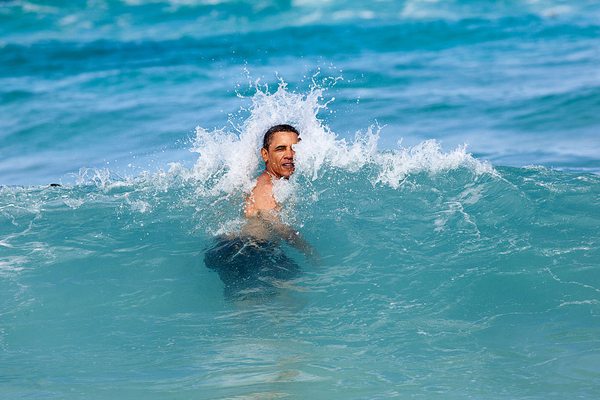 "A nice way to celebrate the New Year for the President was to jump in the ocean in his native state of Hawaii. He was on his annual Christmas vacation with family and friends, and went swimming at Pyramid Rock Beach in Kaneohe Bay."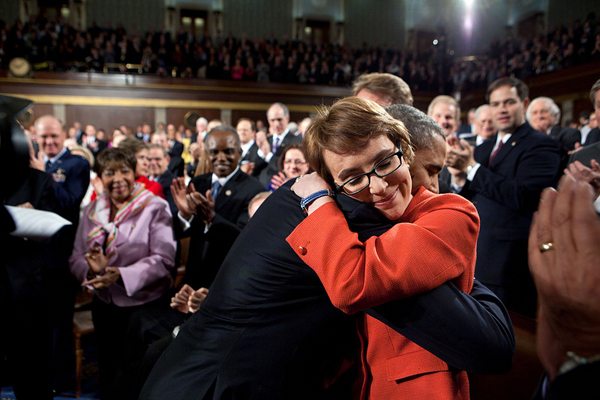 "One of the most memorable moments of the year was when the President hugged Rep. Gabrielle Giffords as he walked onto the floor of the House Chamber at the U.S. Capitol to deliver his annual State of the Union address."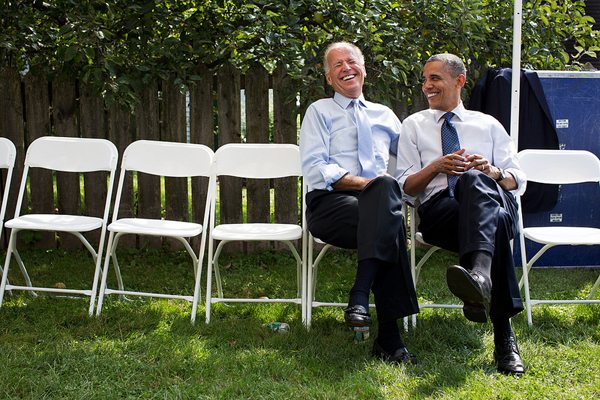 "The President and Vice President share a laugh before a campaign rally together in Portsmouth, N.H."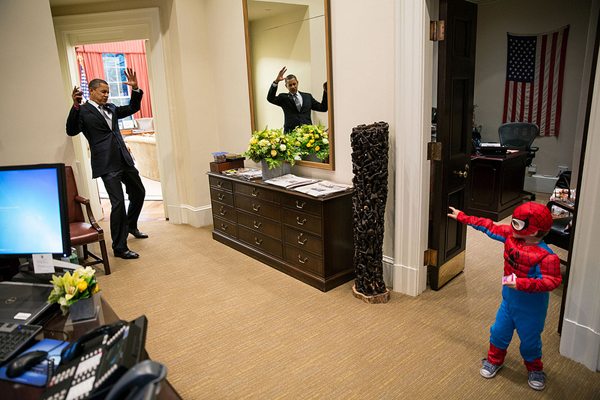 "The President pretends to be caught in Spider-Man's web as he greets Nicholas Tamarin, 3, just outside the Oval Office. Spider-Man had been trick-or-treating for an early Halloween with his father, White House aide Nate Tamarin in the Eisenhower Executive Office Building. I can never commit to calling any picture my favorite, but the President told me that this was HIS favorite picture of the year when he saw it hanging in the West Wing a couple of weeks later."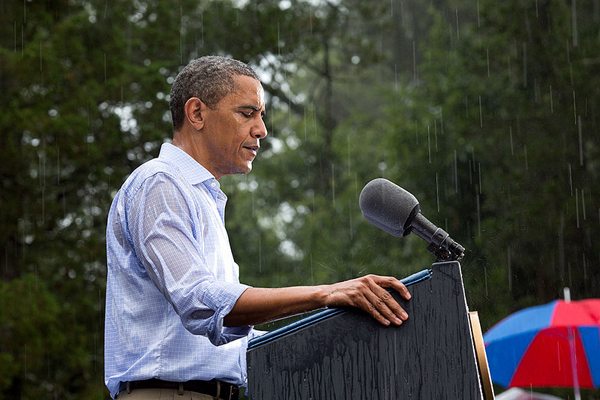 "The President delivers remarks in the pouring rain at a campaign event in Glen Allen, Va. He was supposed to do a series of press interviews inside before his speech, but since people had been waiting for hours in the rain he did his remarks as soon as he arrived at the site so people could go home to dry off."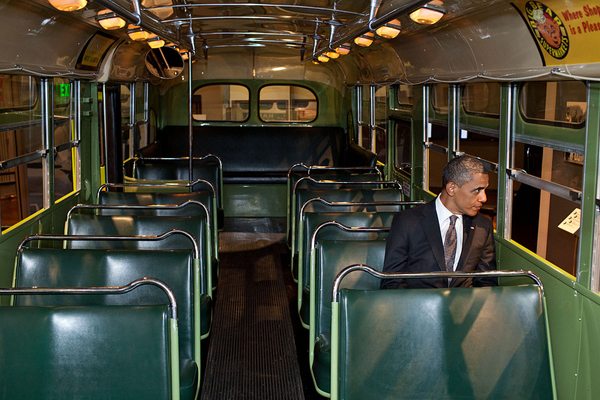 "We were doing an event at the Henry Ford Museum in Dearborn, Mich. Before speaking, the President was looking at some of the automobiles and exhibits adjacent to the event, and before I knew what was happening he walked onto the famed Rosa Parks bus. He sat in one of the seats, looking out the window for only a few seconds."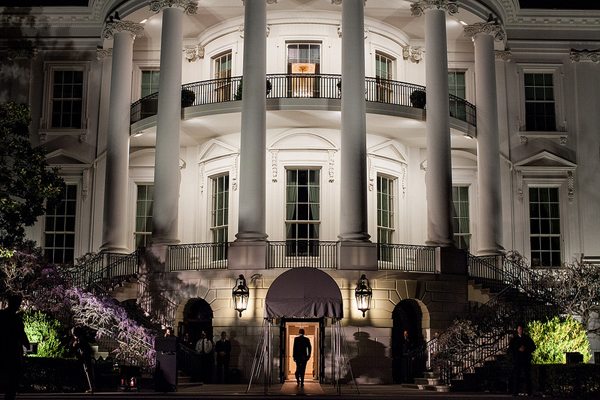 "We had just arrived aboard the Marine One helicopter on the South Lawn and the President was walking into the White House. I had seen this scene several times but had never been able to quite capture it the way I wanted. Here, finally, arriving at night, I was able to frame him walking into the light of the Diplomatic Reception Room, with the added bonus of his shadow being cast from the television lights off to the left."