Your Itinerary 21: World Digiscopers Meeting
Podcast: Download (Duration: 31:53 — 21.9MB)
The first World Digiscopers Meeting.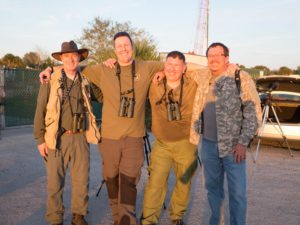 I was privileged to meet digiscopers from around the world in Titusville, FL last January. The first World Digiscopers Meeting was organized during the Space Coast Birding festival. The event was an opportunity for a lot of folks who knew each other online to meet in person for the first time.
That's where my guests come in… Robert Wilson is a retired commercial photographer who lives in Florida. He was one of the main catalysts for the digiscoping event. Most people I spoke to during the event gave Robert credit for getting getting everyone together.
Justin Carr is a birder and digiscoper from the U.K. As you'll hear in the interview, he was digiscoping long before the current high-tech gear we have today. He shot the butterfly image below using his LUMIX GH3 and a pair of binoculars!
Danny Porter is also from the U.K. He's a digiscoping consultant for Swarovski Optik and the man behind the popular Danny's Digiscoping blog. His blog provides digiscoping tips, product reviews and lots of great photos.
These three photographers became friends through Facebook. Their experience is a great example of how social media can translate into meaningful connections in the real world as well. I had a lot of fun with the digiscopers I met during the festival and I hope you enjoy the interview.
Hopefully I'll actually get to shoot with these talented gents the next time our paths cross.
Digiscoping links: