Street Focus 00: An Exploration of Urban Photography
Podcast: Download (Duration: 15:30 — 21.3MB)
Introducing Street Focus! The newest addition to the TWiP Network.
If only Henri Cartier-Bresson were around today to see the advances in photography and more specifically street photography! I'm confident he would be proud at how Valerie Jardin, the newest host to join the TWiP network, is spreading the good word about street centric photojournalism.
Welcome to the first episode of Street Focus — the newest addition to the TWiP Network! Street Focus is a show hosted by street photographer and TWiP co-host Valerie Jardin.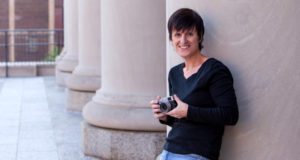 In each episode Valerie will push your knowledge of street photography forward while keeping you inspired and enthusiastic about getting out there and taking photos. This show isn't necessarily centered around the tools or gear, but rather the art itself. In the show, Valerie will be interviewing talented street photographers about their passion, the art of remaining invisible, how to approach strangers, what tools street photographers are using today and much more.
Valerie routinely travels the globe teaching street photography workshops, and wherever possible she will be podcasting from those exotic locations!
I'm very excited to add this cool new (and much requested) show to the TWiP Network, and both Valerie and I hope you enjoy the excitement that will unfold in the upcoming Street Focus episodes.
Please subscribe to the show either on iTunes or via RSS, and be sure to leave a rating and a comment on iTunes. It really helps get the word out about the show.
http://youtu.be/L992tA7OEls