How to Publish from Lightroom Directly to SmugMug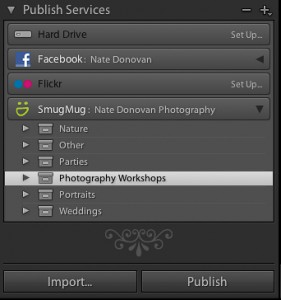 If you're like me, then you have thousands of photographs that you are managing in Adobe Lightroom.
Lightroom has easily become the most important piece of software on my computer because of its rich features and the how efficient my workflow and management has become.  One of the most important functions I need in my workflow is to process my images to post on the internet.
Most people have gotten comfortable with using Lightroom's export function to create a second set of images that will be used for uploading to the many web photo services.  A lesser used function of Lightroom is its Publish Services feature.
I use Publish Services to upload Collections and Smart Collections directly to my SmugMug account, without having to export my images first.  This is a great time saver and doesn't eat up additional hard drive space.  Lightroom's Publish Services with SmugMug interface does a great job of giving you all the advanced options that you find in SmugMug's web interface.
If you have a SmugMug account and you are using Lightroom then Publish Services is a must!!