Podcast: Download (Duration: 3:33 — 2.0MB)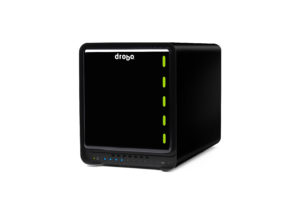 Drobo
has established itself as the "understandable" RAID solution for people who need to store A LOT of data, and need to store it safely. With its "Beyond Raid" technology, the company addresses several concerns plaguing photographers. First, we are always creating MORE data! Giant raw files, 4K video, or just Photoshop documents with a bazillion layers. Over time, it adds up. And losing any of this data is non-negotiable. Secondly, photographers need storage that we can expand without copying all of our files to a bigger drive every year. And lastly (but not least) we need speed.
Drobo solves these problems with their drive enclosures, and they've just released an entry level unit called the Drobo 5C. It doesn't have the Thunderbolt ports found on the more expensive models, instead it has a USB-C port. So, it's great for backup.
Like all Drobo's, the 5C protects your data from single, or dual hard drive failures. Drobo immediately starts rebuilding data on the failed drive to protect your data using available space. In the back ground Drobo does "data scrubbing" which means it reads your data looking for inconsistencies or corruption and does repairs.
The Drobo 5C also has a battery that protects all data in memory or cache. So, if power suddenly goes away, Drobo moves any in-transit data to onboard flash in your Drobo so it will be protected. The protected data will be moved to your disk drives once power is restored. This ensures your important information is safe and sound. The battery recharges itself and is designed to last for the life of you Drobo.
Drobo 5C will support up to 64TB drive sizes. But you can start with much less. Start with the capacity you need today, then when more storage space is needed, throw in another drive, or replace a smaller capacity drive with a larger one. You can just buy the best drive at the best price when you need more space.
Hard drives slide into their drive bays with no metal carriers or assembly required. The face-plate is easy to remove because it's held in place with magnets.
Lights on the front tell you what's happening – if you can read a traffic light, you're already a Drobo expert. Each blue LED along the bottom represents 10% utilization letting you know exactly how much capacity is consumed. Green, yellow or red LEDs keep you informed of each drives status at all times. Unsure of what the lights mean? All the information is right there on the back of the magnetic cover.
Essentially the 5C is really a rebranding of the original Drobo. Since its birth Drobo has gone on to expand their product line, but it all started with this little puppy. And it's still kicking after all these years.
If you're looking for an easy to use, inexpensive back-up RAID solution. You should definitely give the Drobo line, and particularly the 5C a look.
---
This episode of All About the Gear is brought to you by Zenfolio, the #1 voted website builder for photographers. With beautiful customizable layouts and best-in-industry selling and marketing tools, Zenfolio is the all-in-one solution for your photography business. Use exclusive code: 'ZenGear' for 1 month free of a Pro-Level subscription, plus 30% off your annual plan at Zenfolio.com.