Book Review: Sony A7 Series From Snapshots to Great Shots
Sony A7 Series From Snapshots to Greatshots by Brian Smith
In 2014, Brian Smith, a Sony sponsored photographer wrote a book titled "Sony A7/A7R From Snapshots to Greatshots". Not long after it was published, I reviewed it for the "This Week in Photo" website.  That review began with an essay about the current state of Sony full-frame cameras. I did that because I wanted to give the book and its usefulness some context.
In the two years since, a lot has happened with regard to Sony cameras and as a result Brian Smith has written an updated edition, titled "Sony a7 Series From Snapshots to Great Shots." Like the previous review, I will begin with a rundown on the current state of Sony FE mount cameras (note: the "F" stands for full-frame sensor and the "E" denotes the Sony "E" mount).
When Mr. Smith's first book was published there were only 2 Sony FE cameras: the A7 and a higher resolution body called the A7R. Soon afterwards they released a version called the A7S, that featured a amazing ability to shoot stills and video in extremely low light levels. Not to rest on their laurels, Sony later updated all three of their cameras with "mark II" models. These larger and more expensive bodies had better ergonomics as well as in-body image stabilization, new sensors, better high ISO performance and improved autofocus.
Also the A7SII and A7RII could now record 4K video with an "S-log" type codec's direct to the SD card. For anyone shooting professional video this type of codec is of tremendous importance, because to use an analogy: "S-Log" to a video is what RAW is to a JPEG. Therefore in post-production an "S-Log" codec can allow the completed video to have a greater dynamic range and color gamut. With a total of six FE mount bodies it made sense for the new book to omit the phrase "A7/A7R" and substitute it with an all encompassing "Sony a7 series" in the title and text.
Previously, I had complained that there were not enough native FE lenses on the market. Since then things have improved with new lenses by Sony, Zeiss and others, but the situation is by no means perfect. After all the FE mount is relatively new and is not a mature system like Canon, Nikon or even Olympus and Panasonic and their micro 4/3rd mount. But with the recent announcement of the Sony G-Master 24-70mm f/2.8, 70-200mm f/2.8 and 85mm f/1.4 lenses, there is much to rejoice as these are lenses that many pros had been clamoring for.
The "G-Master" branded lenses use a new process to manufacture aspherical optics with an amazing surface tolerance of 1/100th of a micron and ability to resolve up to 50 line pairs per millimeter. Also Sony created a way to simulate the bokeh in a computer before a lens is actually built. This allows them to optimize the bokeh in an efficient manner.  That said, with simple adaptors almost any manual focus full frame lens can be used on the Sony bodies. Also there are some electronic adapters that can use Canon EOS and the Sony "A mount" DSLR lenses with full autofocus capability. And surprisingly autofocus adapters for other mounts such as the Leica M are currently being developed and will soon hit the market.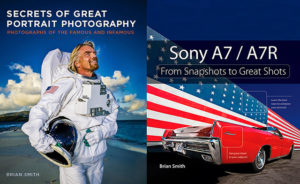 What is wrong with the current Sony FE lens line up? In my opinion, one problem is a by-product of the evolution of what the mirrorless camera represents in the market. Due to the lack of mirror and accompanying optical pentaprism assembly, the mirrorless cameras were able to be made smaller than the typical DSLR.  And since all mirrorless cameras (except the Leica) had sensors that were smaller than a full frame, they could also have smaller lenses. This held true with the original Sony NEX (APS-C) and the Panasonic and Olympus (Micro 4/3rds) cameras. The marketing of these cameras typically emphasized that they allowed you to take good images with cameras and lenses that were smaller and lighter than a DSLR.
But once Sony put a full frame sensor in an E-mount body, that changed everything. The laws of optics being what they were, they could not make full-frame lenses smaller than the equivalent DSLR full-frame lenses. Some have complained vociferously that large lenses, like the aforementioned G-Master series negates the original purpose of the mirrorless camera, which supposedly was the compactness of the camera and lenses. These complaints are compounded by the fact that Sony continually promotes the smallness of their camera bodies as a virtue. But I believe that compact size is NOT the only advantage of a mirrorless camera.
The greatest advantage of a mirrorless is the fact that the live view is constant, until you press the shutter. This means that it is constantly sampling the image and projecting it on the electronic viewfinder. Therefore you can see the exposure and or the depth of field, before the image is recorded. The moment the image is shot, you can see what you took in a brief preview in the electronic viewfinder, thus eliminating the need to "chimp" on the LCD on the back of the body.
With some lenses, the mirrorless can use image recognition software to constantly look for human eyes as a focus point. When shooting in manual mode you can have a live histogram in the viewfinder to help gauge your exposure settings.  Also when shooting with manual focus with a very shallow depth of field, the focus point can be magnified and electronic aids like peaking can be used to help you do this accurately.  If you shoot video, the electronic viewfinder is a necessity and the mirrorless is a natural video camera, unlike the DSLR. And finally, if size is still an issue for you, a small body attached to a large lens is still smaller than having a large body attached to a large lens.
Today the Sony FE line-up is in an transition point. At first they produced slower lenses in order to keep them small like the bodies. Now with the G-Master series the lenses, that are as big, heavy and as expensive as the equivalent Canon and Nikon versions. Which brings me back to the Sony bodies, which are technologically amazing. But in an effort to keep them small and light, they are missing some important features like dual memory card slots and heavy duty weather sealing. They also use smaller batteries, which affects the ability to run for long periods without changing batteries. Another negative aspect of a compact body is heat dissipation which can be a problem when recording 4K video for a length of time.
The Sony a7 series are great cameras, but the next step is pretty obvious. At some point Sony needs to make a bigger body designed for the professional market. Namely, a body with dual card slots, a touch screen LCD, a large battery and heavy duty weather sealing. In the past I've used Sony ENG video cameras and from experience I can tell you that they are weatherproof and built like a tank. Therefore they are obviously capable of building a pro FE body if they wanted to. My guess is that they will eventually do it and while a large flagship body won't be purchased by everyone, its existence will make a clear statement of their intent. Which it to be a true competitor to Canon and Nikon in the professional sphere.
Now about Brian Smith's new book about the A7 series cameras.  Like the first edition, the second edition is excellent. In his introduction, Mr. Smith claims that it is not meant to replace the user manual and is intended to act as a companion volume. I do see his point, but I like to think of his book as the first thing you should read when getting an a7 series camera. It is well-written, easy to understand and has great sample images. If you are a beginning photographer this book is a no brainer, because it's a primer on basic photographic technique and a lesson on how to make compelling images. For the advanced user, it acts as a short cut to get rapidly up to speed on how to make these cameras do what you want. Frankly, most user manuals are dryly written by engineers, but they are a necessity because cameras have become complex computers with unique operating systems. Therefore you have to occasionally look something up in the manual.
But cameras are about making photos and its nice that the book focuses on photography. Without question this book will get you up and running in a day. The author is a Pulitzer Prize winning photographer who over the years has worked in many different fields such as photojournalism, sports, celebrity portraiture, editorial, documentary and travel. It stands to reason that any practical advice he can give is of value. With his clear writing style, combined with PeachPit's superb graphic layout, this book not only gives you suggestions for camera settings, but it tells you  exactly why those settings will make a photo better. Furthermore Mr. Smith is very open and helpful to Sony users and has had added a plethora of new information based on questions and comments send to him by readers after the publication of the first edition.
While he is sponsored by Sony and therefore a de facto representative of the company, my previous email interactions with him, combined with the text in the book have proven to me that he is an honest broker when it comes to these cameras. For example in the section about the menus, he gives a plane language description of the settings and why you would need it. He is also not afraid to tell you that he prefers to turn certain settings or features off, when he deems it appropriate.
I suppose if a person has only the first two Sony cameras (A7 and A7R), they would be fine with just the first edition of the book. But there is a plethora of new information in the second edition, such as how to customize your camera, how to use Sony's PlayMemories Apps which for a small fee allow you to add new functionality to the bodies. Also there is a great deal of new information on shooting video. This is especially valuable since two of the newer cameras can shoot 4K video with the aforementioned "S-log" codec direct to the SD card.
In my opinion it makes sense to get the second edition. To make the new book the same size as the original, PeachPit omitted three entire chapters from the first edition. These were "Lens Mount Adapters", "Creative Compositions" and "Pimp My A7." Happily the purchase of the new book allows you to download those missing chapters as a PDF, which you can save to your computer, mobile device or can print it out if you choose. Please note the newer "Lens Mount Adapters" chapter in PDF form has been greatly expanded from the original version.
The book can be purchased directly from the PeachPit website. It is 336 pages and the list price is $29.99. The digital download version costs $23.99 and includes a watermarked PDF, EPUB and MOBI format. If you go to the website, you can often get them for a discount.
I highly recommend the book and would be remiss if I didn't mention one more thing. Brian Smith is one of the few people that actually gets to use the Sony cameras and lenses before they have been officially announced. For example as soon as Sony made their presentation on the G-master lenses, Mr. Smith posted images he took in New Orleans using those lenses and answered questions about them on his blog. He also tests all manner of accessories for these cameras and reports his findings on his site. As an A7R user, I often look at his blog to see the latest in the world of Sony FE mount cameras.
A Brian Smith Interview by Frederick Van Johnson