TWiP 417 – The Sony Onslaught Continues
[smart_track_player url="http://www.podtrac.com/pts/redirect.mp3/pixelcorps.cachefly.net/twip/twip_417_aud.mp3″ color="6a1915″ title="The Sony Onslaught Continues" artist="TWiP 417″ ]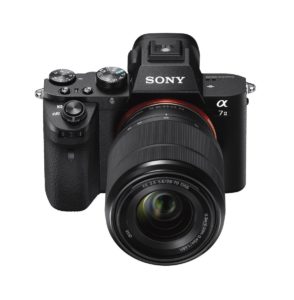 The Sony onslaught continues. Without question Sony has been one of the stand­out movers and shakers in the ongoing digital SLR saga. And the company continues to push the envelope in terms of creating standard ­setting sensors. Last week Sony introduced their new flagship full­ frame mirrorless cameras — the A7 II and the A7R II.
The new A7R II features the world's first 42.4 megapixel back­ illuminated full ­frame CMOS sensor, with light sensitivity expandable up to ISO 102,400. And the company claims auto focus speeds are up to 40% faster than in the original A7R (sorry early adopters) thanks to 399 focal plane phase detection AF points.
Wow… that's a lot of progress, in such a short time.
Joining me to discuss Sony's latest announcements and other photography news of the week, are Martin Bailey from Martin Bailey Photography & the host of TWiP Weddings -­ Bruce Clarke.
Links Mentioned in This Episode
Picks of the Week
TWiP 417 is brought to you by:
This episode of TWiP is brought to you by Panasonic Lumix Cameras. Visit the Panasonic Lumix Lounge to learn more about these fantastic cameras and see what the Lumix Luminary team is creating!
Start your free trial site today with no credit card required at Squarespace.com, and use promo code "TWIP" to get 10% off of a Squarespace account.
Freshbooks is the simple cloud accounting solution that's helping thousands of new entrepreneurs and small business owners save time billing, and get paid faster. Sign up for free today at FreshBooks.com and join over 5 million users running their business with ease.
L​earn what you want, when you want, with access to thousands of high​quality and easy­-t​o-­f​ollow video tutorials, including many about photography. Do something good for yourself in 2015 and sign up for a FREE 10­day trial by visiting l​ynda.com/twip.​
Connect with Our Hosts & Guests
Martin Bailey: Website, Twitter, Google+
Bruce Clarke: Website, Twitter, Google+, Instagram
Frederick Van Johnson: Website, Twitter, Google+, Instagram
Credits
Pre-production by: Bruce Clarke
Post production by: Suzanne Llewellyn & Vince Bauer
Bandwidth provided by: Cachefly
Intro Music by: Scott Cannizzaro