TWiP #254 – The Psychology of Photography
[google1]
Hosts: Frederick Van Johnson, Derrick Story, Bruce Clarke
Episode Overview
This week:
The Psychology of Photography – Mindset
Canon and Nikon announce fixes, workarounds for their latest camera bodies
BlackBerry announces new camera enhancements coming to BlackBerry 10
Olympus reveals a new Ultra-rugged camera
Plus Frederick sits down to chat with Playboy centrefold and celebrity photographers Arny Freytag and Jarmo Pohjaniemi.
Derrick Story and Bruce Clarke join Frederick Van Johnson to discuss these topics and more on this week's episode of TWiP.
On the Playboy "Casting Couch" with Arny Freytag and Jarmo Pohjaniemi.
Book Recommendation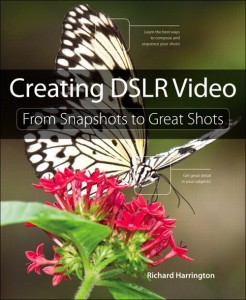 Creating DSLR Video by Richard Harrington.
$20 for the paper version.
$16 for the eBook version
Please Support our Sponsors:
This episode of This Week in Photo is brought to you by: FreshBooks, the easy online invoicing app for small businesses that saves time and gets you paid faster.  Join over  3.5 million Freshbooks users, and try the service free for 30-days of unlimited use at FreshBooks.com.  Be sure to let them know you heard about it on TWiP.
TWiP is also brought to you by: Squarespace.com, the fast and easy way to create a high-quality website or blog.  For a free trial and 10% off your first purchase on new accounts, go to Squarespace.com, and use offer code TWiP5.  And they now offer FREE domain registration with annual plan subscriptions!
Connect with Our Hosts & Guests:
Derrick Story: www.thedigitalstory.com or www.twitter.com/derrick_story or Google+
Bruce Clarke: www.momentsindigital.com or www.twitter.com/bruceclarke or Google+
Frederick Van Johnson: www.mediabytes.com or www.twitter.com/frederickvan or Google+
Credits:
Pre-production by: Bruce Clarke
Post production by: Suzanne Llewellyn
Bandwidth provided by: Cachefly
Intro Music by Scott Cannizzaro
Photo Credit: Jean-Etienne Minh-Duy Poirrier