Life Happens in Color
A street photography manifesto by Nancy Lehrer
Podcast: Download (Duration: 28:36 — 52.9MB)
In this interview I discuss street photography with Los Angeles based photographer Nancy Lehrer. We go into her reasoning behind choosing this genre, her gear choices, post-processing, photographer safety and more.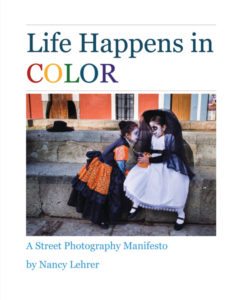 Nancy Lehrer, is an independent photographer based in Thousand Oaks, California who uses photography to capture her unique world-view. In her recent book "Life Happens in Color – A Street Photography Manifesto", Nancy declares her commitment to the use of color, and to telling compelling visual stories. Nancy has a master's degrees in Music Performance and Computer Science from the University of Massachusetts in Amherst.
She has studied photography from several American photography masters including Jay Maisel, Sam Abell, Gerd Ludwig, and Arthur Meyerson. She has exhibited and received local and national awards and lectures on photography throughout California.
Website: http://www.inancyimages.com
Blog: http://blog.inancyimages.com
Purchase the Life Begins in Color:  http://www.blurb.com/user/store/inancy
---
HELP SUPPORT TWIP!
+ PATREON – https://www.patreon.com/thisweekinphoto
Please help support TWiP by donating to the network on Patreon. Running a podcast network is not cheap, free or easy! It requires a ton of effort and commitment. Even the smallest donations help us keep things afloat.
+ TWIP PRO – http://www.twippro.com
If you enjoyed this video, please join our community at http://www.twippro.com – you can support TWiP while continuing the photography conversation. Join the mixer with like-minded photographers, while helping keep us on the air!
—————
MORE ABOUT TWiP…
+ THIS WEEK IN PHOTO – https://thisweekinphoto.com
TWiP is one of the longest running and most respected photography podcast brand and networks in the world. Subscribe to our podcast, or our YouTube channel to stay entertained, inspired and educated about all things photography.
+ TWiP PRO SCHOOL – http://www.twipschool.com
Continue your learning experience at the TWiP PRO School! We've got loads of "instant access" digital courses available for you to dive into NOW. Many courses are taught by some of your favorite TWiP personalities!
+ TWiP MEETUPS – https://thisweekinphoto.com/meetups
Meet and interact with some of the TWiP hosts, get to know your fellow TWiP PRO community members, and learn how to take your photography to the next level. Everyone is welcome — all skill-levels, camera types, and photographic interests.
TWiP ON SOCIAL MEDIA:
• Twitter – http://www.twitter.com/thisweekinphoto
• Facebook Group – http://www.facebook.com/thisweekinphotography
• YouTube – http://www.youtube.com/thisweekinphoto
• Instagram – http://www.instagram.com/thisweekinphoto