An Entirely New Kind of Camera – The DxO ONE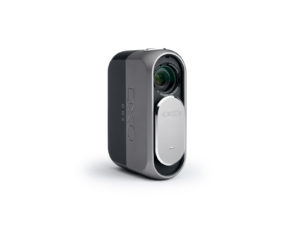 There's no question that the DxO ONE camera is one of the more important hardware releases this year, and it represents an entirely new category. And  the camera looks to be an important new tool for photographers. And as with any new tool, there are varying opinions flowing freely on the Internet, mostly from folks who have yet to even try the camera. However, when you get right down to it, the only thing that matters to us, as image makers and content creators, is the image quality and user interface/user experience.
DxO invited me to their headquarters in San Francisco to get a sneak peek at this new device a few weeks ago, and I left the meeting with a bit of spittle in the corner of my mouth. I wanted one. I still want one. This thing looks, operates, and feels like something Apple would create to compliment their coveted iPhone line. DxO wasn't able to provide me with a loaner unit at the time — probably because ALL OF MY FRIENDS already had them. Friends like…
Derrick Story
Sara France
Trey Ratcliff
Joseph Linaschke
From these folks, I've heard nothing but positive and complimentary comments. I trust each and every one of these folks and value their opinions immensely. When they say something is good… it's good. And they've unanimously said this thing is good. Though most of them say the $600 price tag is—aggressive.
I carried the DxO ONE in my pocket last week as I explored the Eastern Sierra. Because of its excellent image quality, I was able to rely on it for my wide angle shots (thanks to its 32mm fixed focal length lens). That allowed me to work with a long telephoto on the OM-D, and not have to worry about switching lenses in a breezy environment. The images I came home with were absolutely beautiful.
Read Derricks full article here.
My good friend, and ace wedding shooter Sara France says this about the DxO ONE:
The DxO ONE fits easily in the palm of my hand but has the features and control that I love as a professional photographer.  Having the images load straight to my camera-roll for easy sharing, without any additional steps, makes them easier to share yet gives me the control I want by saving a raw file of that same image for  later processing.  As a new mom, this camera allows me to capture and share the images of my daughter growing up, without extra steps or cumbersome gear that I just won't carry.  The DxO ONE is a welcome new addition to my family.
When I finally get my hands on this little wonder, I'll put it through its paces… as I'm sure the All About the Gear guys will. But it looks like DxO might have a winner on its hands. With the main limiting factor being price.
Without having actually tested the thing, the best I can do in this post is recite second-hand opinions and copy/paste the DxO press release, along with some sample images.
So, for now… here you go — enjoy!
---
DxO introduces revolutionary DSLR-quality camera that attaches directly to the iPhone®!
The pocket-sized DxO ONE features a 20.2 MP 1-inch sensor and a high-end f/1.8 lens
DxO, a world leader in digital imaging technologies, last week introduced the DxO ONE, a revolutionary camera that delivers DSLR image quality in an extremely compact size. At 3.8 oz (108 g) and 2.65" (6.9 cm) tall, the DxO ONE is so small that it easily fits in a pocket, yet it features an ultra-high quality f/1.8, 32mm equivalent aspherical lens with a variable 6- blade iris and a 1-inch 20.2MP CMOS BSI sensor capable of capturing high-resolution images even in very low light. The DxO ONE achieves a DxOMark Sensor Score of 70, and up to 85 when using the SuperRAWTM technology (described below), on par with full frame DSLRs and dramatically higher than any smartphone.
DxOMark is the industry-standard protocol for camera and lens image quality assessment, used throughout the camera industry and photography press. Made of high-grade aluminum, the DxO ONE is a premium camera that has been engineered with the iPhone and iPad® in mind: it attaches via the LightningTM connector, turning the beautiful iPhone display into the camera's viewfinder. The camera swivels ±60°, enabling creative perspectives.

"The image quality of the DxO ONE is stunning," said Jerome Meniere, CEO and founder of DxO. "It's possible to shoot crystal-clear images under moonlight, which is incredible for a camera this small. The shallow depth of field and bokeh of the lens at f/1.8 is absolutely perfect for portrait photography."
A free iOS app enables control of the individual settings on the DxO ONE camera, including aperture (from f/1.8 to f/11), shutter speed (from 15s to 1/8000s), and ISO (from 100 to 51200).
"We believe that, as the first truly connected camera, the DxO ONE opens a completely new era in digital imaging and we can't wait to see what incredible images photographers around the world will be able to create with it."
In addition to an Auto mode, the DxO ONE app offers various capture modes, including multiple Scene modes, Speed, Aperture Priority, or full Manual mode – and the camera interface automatically adapts to the selected mode for a unique user experience. The DxO ONE also records outstanding videos at 1080p/30fps or 720p/120fps.
In addition to the built-in microSDTM memory card, photos or video can be automatically stored in the iOS camera roll, where they are immediately displayed on the iPhone's or iPad's beautiful high-resolution screen, and can be instantly shared to Facebook®, Instagram®, and Twitter®, leveraging the iPhone's natural connectivity.
By default, the DxO ONE automatically keeps the valuable high-dynamic RAW 'digital negative' files, enabling post-production editing flexibility in RAW conversion programs like DxO OpticsPro and Adobe® Lightroom®.
For the ultimate in noise-free image quality – even in very low light – users can choose to capture images in DxO's new SuperRAW format. A SuperRAW file is the result of 4 RAW frames captured in quick succession. When the DxO ONE camera is connected to a Mac or PC, the DxO Connect companion software automatically merges the four images together using the very latest in spatial and temporal noise reduction.
"The DxO ONE leverages all of the imaging technologies that we've been perfecting for well over a decade," explained Frederic Guichard, DxO's Chief Image Scientist. "It brings together mobile imaging miniaturization technologies with a large 1-inch sensor and state-of-the-art software image processing."
"Being image lovers at DxO, we have built the camera we dreamed of for ourselves and could not find anywhere else: uncompromised image quality always available in our pocket," concluded Jerome Meniere, CEO and founder of DxO.
Pricing & Availability
In the US, the DxO ONE can be pre-ordered today from www.dxo.com, with shipments planned to begin in September. Pre-order and availability dates for other countries are available on DxO's website.
The DxO ONE is offered at a price of $599. For a limited time, the DxO ONE comes with free licenses of two award-winning RAW image processing software, DxO OpticsPro (ELITE Edition, sold separately for $199), and DxO FilmPack (ELITE Edition, sold separately for $129), which digitally reproduces the look and feel of analog films.
About DxO!
DxO develops the world's most advanced image processing technologies, which have enabled over 300 million devices to capture the highest quality images achievable. DxO's award-winning DxO OpticsPro software allows serious photographers to quickly and easily make their best photos look even better, and the DxO ONE has redefined the connected camera with a revolutionary design that pairs perfectly with iPhone and iPad to deliver DSLR image quality at a size that goes wherever you do. For more information, go to www.dxo.com
About DxOMark
DxOMark is the trusted industry standard for camera and lens image quality measurements and ratings. For years, it has been recognized for providing the most rigorous hardware testing, using industry-grade laboratory tools in its analysis, and for establishing the most comprehensive reference database using its thousands of camera and lens test results.
For more information, go to www.dxomark.com.
Sample Images