The Photographic Story Collector and Memory Maker
with Curtis Jones
Podcast: Download (Duration: 40:58 — 46.9MB)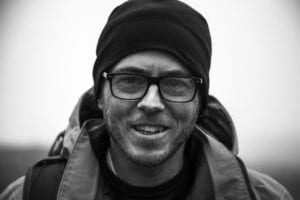 Curtis Jones started his career as a Pharmacist but quickly gave into to the call of the wild — and his camera! He now spends his time leading amazing workshops in the four corners of the globe, while making memories, telling stories and training other photographers on the finer points of travel and image-making.
About Curtis:
It takes a certain personality to appreciate the details of a climate rarely inhabited by people. Curtis Jones has spent most of his career saturating himself in the polar regions of the planet, dividing his residency between Newfoundland and Nunavut, Canada.
Over the last decade, his adventurous lifestyle has taken him across the Gobi Desert by kite buggy, on a 2300 km unsupported traverse of the Greenland Ice Cap, Antarctica, and a lifetime of climbing and exploration worldwide. Working for both the private and public sector, he has documented work for environmental initiatives, literacy, Canadian National Parks, climate change and tourism in the Canadian Arctic.
Collaborating with world-class athletes, production teams, and local cultures and communities, he has built his career delivering a personal view of the raw, wild, and often untamed. His work has been seen in National Geographic Adventure, Canadian Geographic, The Globe and Mail, Huffington Post Canada and more. Between commercial clients, he is often seen leading photography workshops in the polar regions of the Earth, sharing his appreciation for adventure with others. A collector of interesting stories, Curtis is rarely seen far from a camera, tent, or a good punchline.
Connect with Curtis:
Website: curtisjonesphoto.com
Workshops: newfoundshores.com
IG – @cjonesphoto
---
+ Instagram – http://www.instagram.com/thisweekinphoto
+ Twitter – http://www.twitter.com/thisweekinphoto
+ Facebook Group – http://www.facebook.com/thisweekinphotography
+ YouTube – http://www.youtube.com/thisweekinphoto
+ THIS WEEK IN PHOTO – https://thisweekinphoto.com
+ TWIP PRO – http://www.twippro.com
+ TWiP PRO SCHOOL – http://www.twipschool.com
+ TWiP MEETUPS – https://thisweekinphoto.com/meetups
+ PATREON – https://www.patreon.com/thisweekinphoto