A new kind of photography adventure…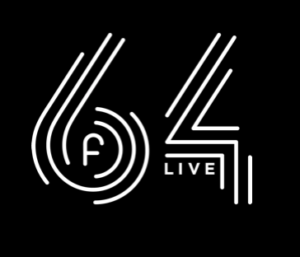 On August 11th, 2018 I had the amazing opportunity to keynote the very first f64 Live conference. Below is that presentation, along with some fun short interviews I did with a few of the instructors. Many thanks to the conference organizers for inviting me, and also for creating something unique in the photography event industry.
f64 Live invite the industry's top professional photographers and instructors. These brilliant artists descend on the event to share their expertise.
To facilitate this, they set up photography "playgrounds" where instructors can… well… instruct, and attendees can put their newfound skills into practice. f64 Live construct amazing photographic opportunities — each designed to let your creativity go wild!
Get signed up for the next F64Live "un" conference at F64Live.com.
---
f64 Live Keynote Address with Frederick Van Johnson
In this video watch Frederick Van Johnson as he delivers the keynote address at the inaugural F64Live conference in Corona California!
---
Michael Richardson on Creative Lighting at F64LIVE
Frederick Van Johnson interviews Michael Richardson and Sparrow Lovett at the f64 Live unconference.
---
Pete Rezac Talks Inspiration at f64 Live
Pete Rezac, a portrait photographer based in Reno, Nevada, still chooses to work with medium and large format cameras and film in creating his fine art portraiture because of the tactile process it provides him in creating his work, along with the rich tones and high fidelity of the photographs that come from these tools.
---
Ramiro Gaytan on Passion for Teaching at f64 Live
Having run his photography business for over 20 years, Ramiro Gaytan's unique approach and impeccable creative eye make his style of photography stand out. He believes that each moment captured is more than just a simple picture; it is a piece of art. His goal is to capture life's special moments with the highest quality and special attention that his clients will cherish forever.
---
Amy Dawnelle on Walking the Light at f64 Live
Amy Dawnelle is a PPA recognized Master Photographer. Since 2004, she has been photographing families, high school seniors, children, and babies in Murrieta, California. Amy teaches a method of simple and easy to execute lighting technics to create images with impact.
---
Shadi Sayes on ImageOne and Mirrorless at f64 Live
Image One Camera & Video is here to serve the Image Makers. We offer film developing, printing and scanning. We have a large selection of rental items including a photo and video studio. We carry all of the major brands in-store for your needs, wants and desires. If we don't have an item, we can more than likely get it for you.
---
Carla Bender – The MacGuyver of Light! at f64 Live
Frederick Van Johnson interviews Carla Bender about inspiration and finding the light at f64Live. Carla is a wife, mother, adventure seeker, photojournalist, and lover of the night sky and abandoned curiosities. She seeks to capture photographs of the awe she sees in our world and hopefully make you feel as if you are with her in the moment she is photographing, or at the very least, create a "you want to be there now" response.
---
Neale Adair on Seeing the Light at f64 Live
Born and raised in Southern California, Neale Adair of Adair Photography grew up in his family owned and operated a business where they have been specializing in portraits and fine art photography in for over sixty years. With a passion for painting and ballet, he was accepted to an art school in San Miguel Allende, Mexico as a teenager. Today, Neale incorporates the diverse skills and creativity drawn from his background in painting and theater into his photographs.
---
A few photos from the event…
Photos by TWiP PRO member Stephen Scharf!
---
Some shots from a few of the sessions…